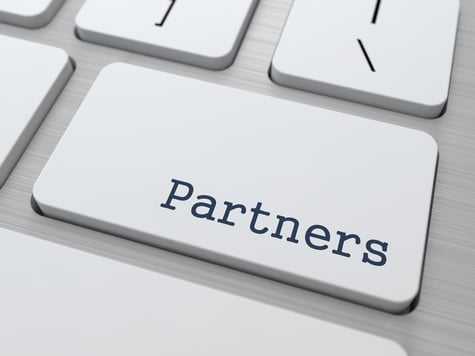 The best version of collaborative marketing drives success for everyone involved – sharing channels to present complementary solutions strengthens both brands while increasing leads.
1) Select the type of B2B partnership you need
Strategic partnership - Align with non-competitive companies that offer products or services that complement yours - for example, a healthcare provider and a health data platform that offers remote access - can help both brands reach into each other's markets to expand their customer base and grow revenue.
Channel partnership - Joining with affiliate partners, third-party distributors, and other intermediaries enables promotion to new audiences, gains customer trust, and increases revenue while transferring the some of the burden of promotions from the company itself to the partner.
2) Choose the B2B collaborative marketing strategy that suits both partners best
Partnership marketing - Share the costs of a mutually advantageous marketing campaign; for example, launch a joint ebook featuring a cellular device provider and a cellular cybersecurity software with each brand having its own CTA

Brand partnership - Form formal, long-term marketing partnerships between two non-competing brands that help both companies - say smart home security and property management - increase exposure, find new markets, grow their sales, or achieve similar goals

Referral marketing - Have

satisfied clients recommend your brand to decision-makers at other businesses via a referral page where they fill in their peer's information and refer them to your business.
Get Our Guide to Collaborative Marketing Content
3) Build a collaborative content marketing strategy that:
Features an omnichannel approach, incorporate the channels into one overall strategy, better driving customer engagement and relationships

Increases your audience reach and expands your influence by optimizing all your brand partner's social media resources

Takes advantage of your brand-partner's unique skills and yours as well. Does your project management platform have email marketing strengths that your partner does not? Likewise, does your partner have an enviable social media following that could boost yours?
4) Start small while you find your footing
If your company is small or you're new in the B2B collaborative marketing game, it's best to start small and make a simple agreement with a potential partner, rather than dive straight into complex arrangements without testing the waters. For example, first try an affiliate partnership or a launch single project, such as a joint webinar. This enables you to gradually learn the ropes without making huge and costly errors.
Download the Steps to Collaborative Marketing Success
5) Establish mutual, SMART goals
Define key success metrics so you'll know if you're hitting your mark. At the same time, implement reporting processes so you can attribute the right leads to the right partners, which is especially critical if there are financial incentives involved. Many tools will help you track lead data automatically.
6) Tap the power of guest-blogging, co-hosted events, and co-branded content.
Guest-blogging featuring fresh, relevant, information-rich blogs from each brand partner's thought leaders is a proven method to increase SEO rankings, web traffic, credibility, and brand value. Co-hosting events are cost effective since you and your partner share the event costs while leveraging each other's databases, multiplying attendance and engagement rates. Finally, collaborating with your partner to create ebooks, webinars, white papers, and other co-branded content - all offering relevant information to both your audiences - expands the reach and synergistically increases the value of that content.
7) Keep your partners informed.
As in any relationship, B2B collaborative marketing partnerships require communication to succeed. Be sure your partner(s) are in the loop when it comes to company changes, product developments, marketing initiatives. Hold regular meetings and provide continuous updates. Make information-sharing easy and consider even adding a partner portal to your website.
While B2B collaborative marketing may prove that two heads are better than one, you may want to add a third partner - a marketing agency with the expertise and experience to "make the right matches" and help you organize and optimize your partnerships with proven strategies, action plans, and B2B collaboration ideas.