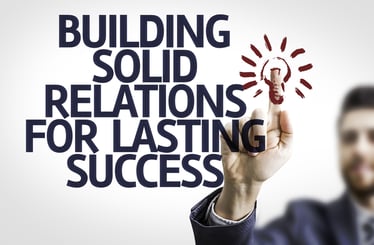 Whether you want to hear it or not, In the age of AI, person-to-person communications are as important as ever. Everyone at any organization can become a content generating powerhouse, using AI to "write" post after post, blog after blog, article after article. Of course, all this content needs to be reviewed by great editors – since AI writing is bland and repetitive - but that's another blog…
When creating human-to-human communications (nothing in here was written by AI), I can't stress enough how critical it is to really understand the needs, wants, and pain points of the people you are targeting.
Just like your own customer-facing marketing materials, PR always needs to focus on the "What's in it for me." What will the journalist get out of your story? How will her readers benefit from your expertise?
The PR-to-Journalist Relationship
Like account-based marketing and sales, PR thrives on human relationships. You need to research each journalist individually to discover the topics he covers, the things that are important to him, what he's already written about, what he doesn't seem to care about, and, if it exists, his editorial calendar. In short, your submissions need to be in synch with what he needs.
On the surface level, you can get the general details from Bing's new search engine; ChatGPT can give you background about the person, but with a two-year time lag. It's also very easy to use AI to create gimmicks – write me a poem about everything the journalist has covered for the last 6 months. The problem is that PR reps have been doing that for a few months now, and journalists are already sick of what was once a novel approach. Remember, novel means new, and after the fourth or 15th poem that day….
In addition, most PR agencies, like ours, have a range of tools that speed the actual PR prep process – but are far from replacing the legwork necessary to generate PR placements. It still takes a human being to analyze all relevant public and proprietary information to create the best pitch possible to get the journalist's attention.
Focusing on Content
Any of the AI writing tools on the market – from ChatGPT to ChatSonic to Jasper to Copy.ai – can do a decent job of creating content. Decent – not great. To be honest, though, writing a press release isn't rocket science. Hiring releases are easy – just put in the person's background, and the AI tool can spit something out pretty quickly. Product releases can be easy – but the process can be worrisome if you accidentally paste in proprietary information. It then becomes part of the training materials and could end up in someone else's content.
When it comes to thought leadership, though, your leaders are the attraction, not a pale AI counterpart. While AI can put together generic information – and it has been getting better at doing so, it's only real-world experience that can flesh out that information to create something meaningful for potential customers and clients.
Moving Forward
We're not going to deny that PR – all marketing communications, actually – has been fundamentally changed by AI. AI alone is never going to bring you the PR exposure that a real human being can generate. Simply put – none of these technologies have our connections and relationships.
The bottom line: PR + AI can be powerful – with a clearly human touch. Reach out to learn how.